MICHELE COOPER, NWWS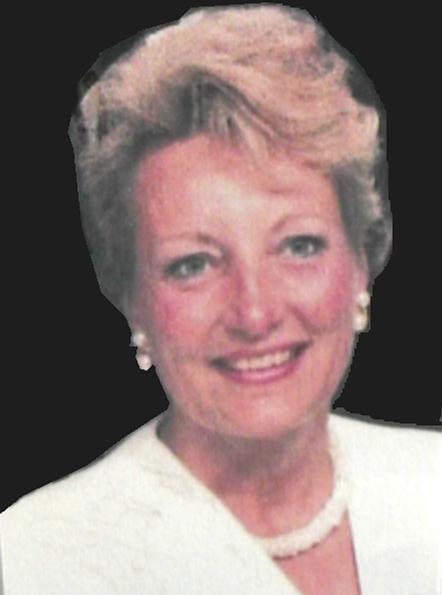 Michele Cooper is a recognized artist who has been teaching watercolor painting for nearly twenty years. Her friendly open approach has made her just as popular in her traveling workshops as in her weekly classes. Her unique techniques and philosophy have opened the gates of watercolor to students of all ages, abilities and nationalities.
As well as being a gifted and inspiring teacher, Michele's other great asset is a genuine liking for people, which has made her friends all over the world. Michele has written two books and produced a series of 19 instructional videos. Her students say they have found her books and videos as inspirational as her workshops and demonstrations. Michele's watercolors have been exhibited in galleries as far afield as Seattle, Ireland and Kyoto. She is a signature member of the Northwest Watercolor Society, Women Painters of Washington, and past (7 years) National President of the NationalCollage Society. Michele loves her art, and whether she is painting, writing, videotaping or teaching, it is her innate friendliness that keeps people coming back year after year.
You are invited to join Michele Cooper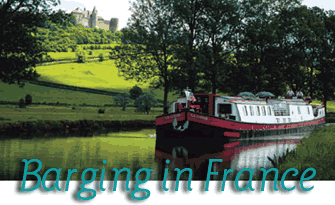 Touring
Dining, Painting & Relaxing
On Our June 2000 Traveling Watercolor Workshop
Departs Paris Saturday 10 June
Returns Paris Friday 16 June 2000
Four night post workshop package includes Giverney
Visiting Paris, Upper Loire, Plagny to Rogny-les-Sept-Ecluses, *Monet's Garden
Featuring / Itinerary / Prices / Post Workshop Package /
Inclusions /Booking / Contact Numbers / Conditions
Peace and solace rise above the French countryside like soft notes of a hidden symphony, la plus belle musique for the soul. The hotel barge "Chanterelle" travels in the Upper Loire Valley, through a landscape straight out of a picture book. See impressive castles, medieval towns, magnificent floral gardens and the famous Sancerre vineyards.

The French Barge Workshop with Michele Cooper could be your best holiday, ever!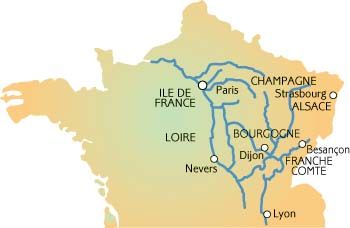 Featuring
Six delightful days on-board "Chanterelle", traveling the Upper Loire Valley
Visits to Paris, Chateau d`Apremont, Nevers, Argenvieres, Sancerre, Chavignol, Beaulieu, Rogny-les-Sept-Ecluses, Briare, and more for sightseeing and painting
With visits to Nevers & Gien for collectors of faience.
Attentive teaching and guidance by Michele Cooper
Four- and five course candlelit dinners prepared by a highly skilled master chef
Most meals complimented with wine, cheese and dessert
The service of an experienced, professional workshop manager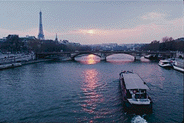 Thursday 8 June, 2000 Departure from Home Airport
Depending on length of flight and various time zones, some workshop members will need to depart today in order to arrive on time to meet our transfer from Paris to the "Chanterelle."
Friday 9 June , 2000 Paris Arrival
Workshop members optional check in at the Hotel Regina as they arrive from their various flights. Come together for dinner at the restaurant. After dinner, take in the music in one of the bars, go for an evening stroll – or just relax.
Day 1 Saturday 10 June 2000 Embark at Nevers
Breakfast in your room or at one of the restaurants in this neighborhood of the Louvre Museum. Transfer from the Hotel Regina to Nevers at 1:30 pm. Enjoy a welcome aboard cocktail reception aboard the Chanterelle.There will be time to unpack and settle in as we begin our journey. The workshop will meet before dinner. Michele will outline her plans for the coming enjoyable days on-board "Chanterelle".
Day 2 Sunday 11 June 2000 Cours-les-Barres, aqueduct of Le Guettin and Chateau d`Apremont
Breakfast. Workshop members will be able to paint throughout the morning and afternoon with help from Michele Cooper as the barge cruises to Cours-les-Barres, crossing the aqueduct of Le Guettin. This afternoon, continue to Chateau d'Apremont, set in a medieval village with magnificent floral gardens. Michele will carry out a critique session before dinner.
Day 3 Monday 12 June 2000 Nevers
Breakfast. Day long cruise through lovely pastoral landscapes to Menetreol and visit the city of Nevers. Discover ancient fortifications, a variety of architecture and a 14th century gateway. Nevers is known for its fine porcelain. Continue to Argenvieres. Nearby, the historic town of La Charite sits astride the River Loire.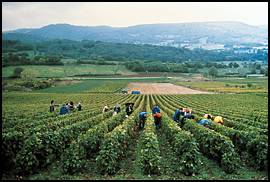 Day 4 Tuesday 13 June 2000 Sancerre, Chavignol, Beaulieu
Breakfast. Visit Sancerre for a private tasting of the famous dry wine. Continue to the goat farm at Chavignol, which produces some of France's finest goat cheese. After lunch, cruise to the village of Beaulieu. We will be sketching, photographing and painting as the occasion allows during the day.
Day 5 Wednesday 14 June 2000 Briare
Breakfast. The workshop group will move ashore if an opportunity for painting presents itself. Cruise on the aqueduct of Briare. You can see the Renaissance working farm and Chateau St. Fargeau. It's rich history covers more than 2,000 years. Nearby, you may visit a museum dedicated to witchcraft.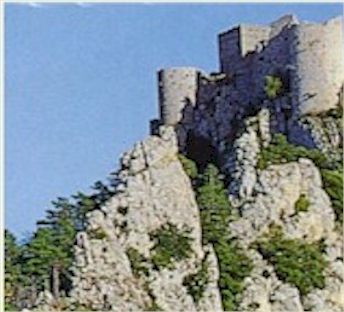 Day 6 Thursday 15 June 2000 Chateau Blancafort & Gardens, Rogny-les-Sept-Ecluses
Breakfast. Our final day of painting and enjoyment on our peniche. Enjoy an excursion to Chateau Blancafort, a charming and privately owned Renaissance castle, surrounded by beautiful gardens. Continue to Rogny-les-Sept-Ecluses and discover impressive 16th century lock chambers. Michele will paint her final demonstration session for the workshop and then help workshop members with their own work throughout the day. We will come together for a final celebratory critique session and farewell dinner on board.
As noted in the A&K brochure, cruise will reverse on alternate weeks.
Day 7 Friday 16 June 2000 Paris Airports,
Post Workshop Package at France Louvre Hotel, Paris
A. Breakfast. Workshop members will disembark after breakfast, return to Paris at about 1:00 pm and workshop arrangements conclude.
*Those who wish to add the Post Workshop Package proceed as follows:
B. Breakfast. Return from the barge to Paris and check in for 2 nights at France Louvre Hotel, arriving about 1:00 pm. The afternoon and evening are free for shopping, sightseeing, museums and entertainment of your choice. Optional dinner with the group.
Day 8 Saturday 17 June 2000 Post Workshop Package in Paris
Breakfast. The day is free for shopping, sightseeing, museums and entertainment of your choice. Optional dinner with the group.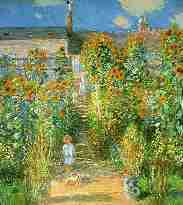 Day 9 Sunday 18 June 2000 Vernon, Giverney
Breakfast. Principal drivers will pick up their rental cars at the carousel nearby. We meet in the lobby at 10.00 am. We will stow our luggage and hop in the car for a morning of sightseeing in the countryside on the way to our accommodations in Vernon. Anyone who would like to preview Monet's garden while the museum is open may do so this afternoon. We are staying in "The Pink House" once owned by the Monet family. It is the same style and color of the house in Monet's garden. After dinner in the village of Vernon, we are free to choose a night on the town or just spend a quiet evening before we retire.
Day 10 Monday 19 June 2000 Giverney, Monet's garden
Breakfast. Subject to our reservation letter, we will spend the day painting the principal sights of Monet's garden at Giverney under the watchful eye of Michele Cooper.
Day 11 Tuesday 20 June 2000 Paris, Airport
Breakfast. Each party will transfer to the airport for their flight home.
Note: These are dates and prices available as of today. They are subject to change at the discretion of our barge company.
Foreign Exchange Rate Fluctuates, rates will be charged at the current rate upon full payment.
All dates & prices subject to availability.
Prices
Cabin
Description
Fare (£)
Fare (US$)
All prices per person, double occupancy
Outside, 7 twins
12008.00
1990.00
All Cabins are outside
Outside, 3 doubles
12008.00
1990.00
Single Supplement
for double cabin
US $470
Outside, 4 singles
2836.00+
12008.00
470+
1990.00
Tuition
Per Student
Description
Fee (£)
Fee (US$)
Full tuition for
entire tour
3017.00
500.00
The booking deposit for workshop participants is $250 ($500 total fee for the tuition). At least one person in your cabin must be registered in the workshop. Non painting companions are welcome.
Booking deposit for cruise/air/hotel is $497.50. Please contact our agent at World Travel Partners. You may call 800-359-9355 and ask for Kathy Rodriques. She will be handling the details of our tour, dates, times, amounts, etc.
*Be sure to tell her if you will be joining us for the post workshop weekend at the end of our cruise.
POST WORKSHOP PACKAGE Must be booked at time of airline reservation :
2 nights in Paris at Hotel France Louvre, English-speaking staff
Breakfast included with single or double rooms
Hotel is a 10 minute walk to the main entrance of the Louvre, 10 min to Musee D' Orsay, 15 minute walk to the Latin Quarter, Notre Dame and much more
Museum Pass
Shared car rental Paris-Giverney-Paris
2 nights private accommodations in Giverney while we paint and explore the French countryside
Breakfast included
Free tuition during the tour to Giverney
Cost of this add-on provided upon request. Contact Kathy at World Travel Partners. Phone: 800-359-9355


Please refer to 'Terms and Conditions' for Europe's Country Waterways by Abercrombie & Kent for important information including payment conditions, cancellation conditions, minimum tour numbers and responsibilities.

A minimum number of students is required to make the workshop a "go". If the minimum is not met before our refund date, the tour will be cancelled and deposits will be refunded less any cancellation fees.
Six enjoyable nights (seven days) cruising on the hotel barge Chanterelle as it travels in the Upper Loire Valley of France and return by land to Paris.
All meals, entertainment and on-board activities on-board the Chanterelle.
Drinks at the welcome and farewell functions.
Painting teaching and tour leadership throughout the cruise by noted US artist and teacher Michele Cooper.
Fully inclusive on-shore sightseeing in each of the ports visited as detailed in the cruise itinerary.
Cruise management by an experienced, professional cruise manager.
Special gifts and amenities for workshop members.
A certificate confirming the successful completion of the workshop.
Not Included in the Price:
Air fares from your home to the workshop (Except where listed as included)
Travel from your home to join the cruise. Please call for help if you need assistance.
Hotel stays before or after the cruise
Pre- or Post-Tour Packages
Tuition for the workshop. Non-painting companions welcome.
Travel Insurance. We strongly recommend that you take out travel insurance to cover cancellation fees, medical and hospital expenses, etc.
Port and Handling Charges. Please check to see if a Port and Handling Charge will be added to the cruise cost.
Sightseeing unless specified in the workshop itinerary.
Transfers, car rental or train fare
Post Workshop Excursion (Paris & Giverney)
Personal expenditure on-board Chanterelle and drinks, meals and personal expenditure ashore.
Gratuities for cabin and restaurant staff on-board or ashore.
Passport and visa fees.